Please use the following file to bulk list items into channels using one file. Currently, the following channels are supported for bulk import using one file.
a) eBay
b) Amazon
c) Etsy
d) Jet.com
f) Sears
g) OnBuy
Remaining channels will be added shortly. Please download the sample files using the attachment below.
multichannel_amazon_canada.xls
multichannelproducts_ebay_amazon_etsy.csv
multichannelproducts_ebay_amazon_jet_sears_etsy.csv
sample_file_multichannel_listing.csv
Please select 'Multichannel Product CSV File' type when importing this file as shown below. Please note that you must create a listing template for each site and the exact template name must be used in the file.
'Multichannel Product CSV File' must have at least following fields.
Filed Name
Description
sku
Stock Keeping Unit. This is the unique id for your product
parent_sku
Parent SKU. Only required if you are importing variation items
title
Product Title
description
Product description
selling_price
Selling Price for your Product
product_summary1
Product Summary. This is also mapped to Amazon bullet Points
selro_category
This is optional. You can provide the selro category name, if you want to import the products into a category in Selro inventory
condition
Item condition of the item. By default this will be mapped to 'New'
variation_theme
For variation items only, e,g Color, Size
product attribute:attribute name

These are product attributes or item specifics. You would need to add a new column for each attribute/item specific

e.g product attribute: color , product attribute: size
To upload your file please go to inventory-> bulk actions

Next please select the file import type, product, and then upload under the 'multichannel Listing CSV', you can then select the file you wish to upload and then upload to this page.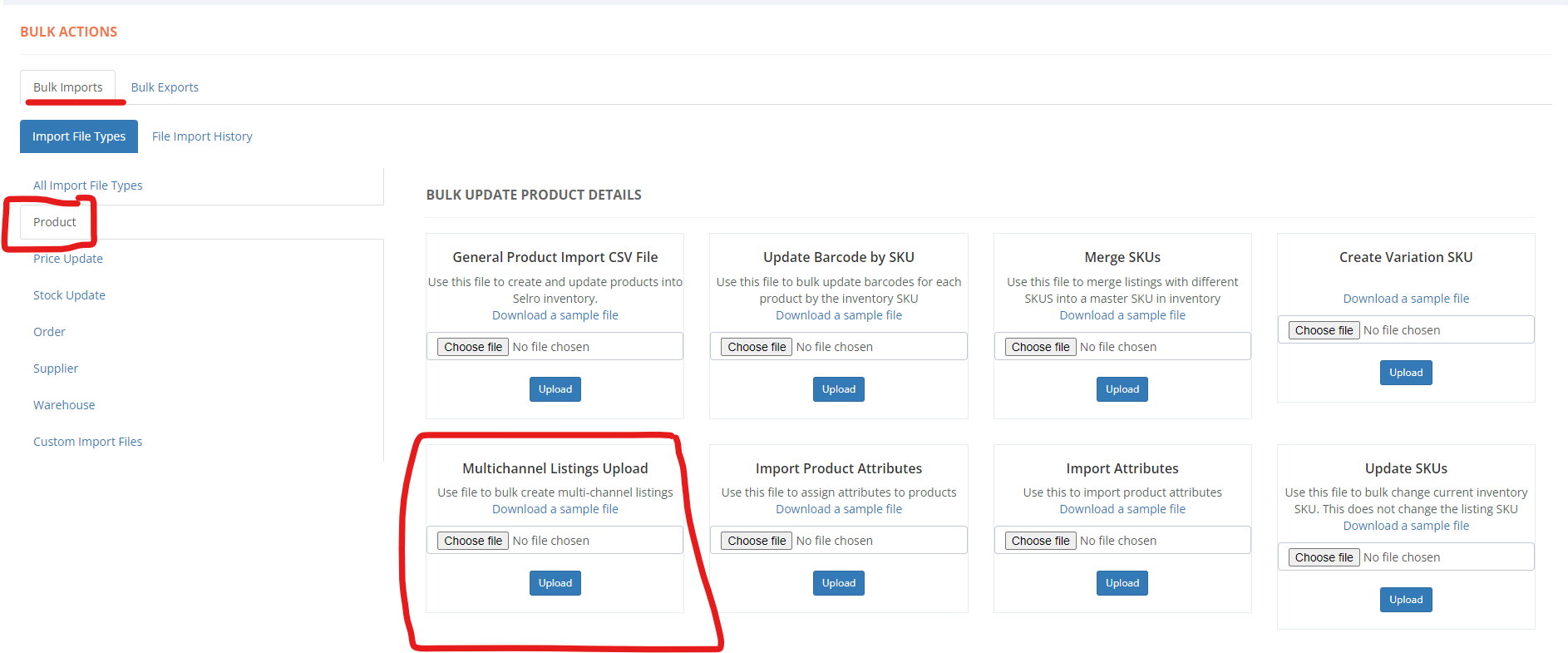 It can take between 20-30 minutes for your file to process (it can take longer if you are listing a high number of products to a lot of channels)
You can check on the status of your upload file by selecting 'file import history'
While your file is processing the status will say 'waiting' once your file has uploaded the status will change to complete.
If there are any issues with your CSV file for example you have uploaded your file with incorrect headers a warning message will appear on this page.

To check on the status of your listings please go to:
Inventory-> inventory & listings

Manage listings-> listing status
You will be able to view the listing status of your products here. Once they are active, these listings will show under the 'active listings tab'