Please follow the below steps to download/re-download individual items from sales channels instead of the full catalogue.
By default Selro automatically downloads new items from sales channels into Selro. But sometimes you may want to re-download an item that is already in Selro.
Please go to 'Manage Inventory' section and click 'Other Actions -> Download from Sales Channels'

Please click 'Download by Item Ids tab and enter the comma separated item ids to download.
For Amazon please enter 'seller SKU'. For other channels please enter item id. For eBay this will be the listing id. Please refer to the below table for the full list of channels that you can download by item id or SKU


This will download the item and update the listing in Selro.


If the product for the SKU (not the listing) is already in inventory, this will not override the product details and it will only update the listing details.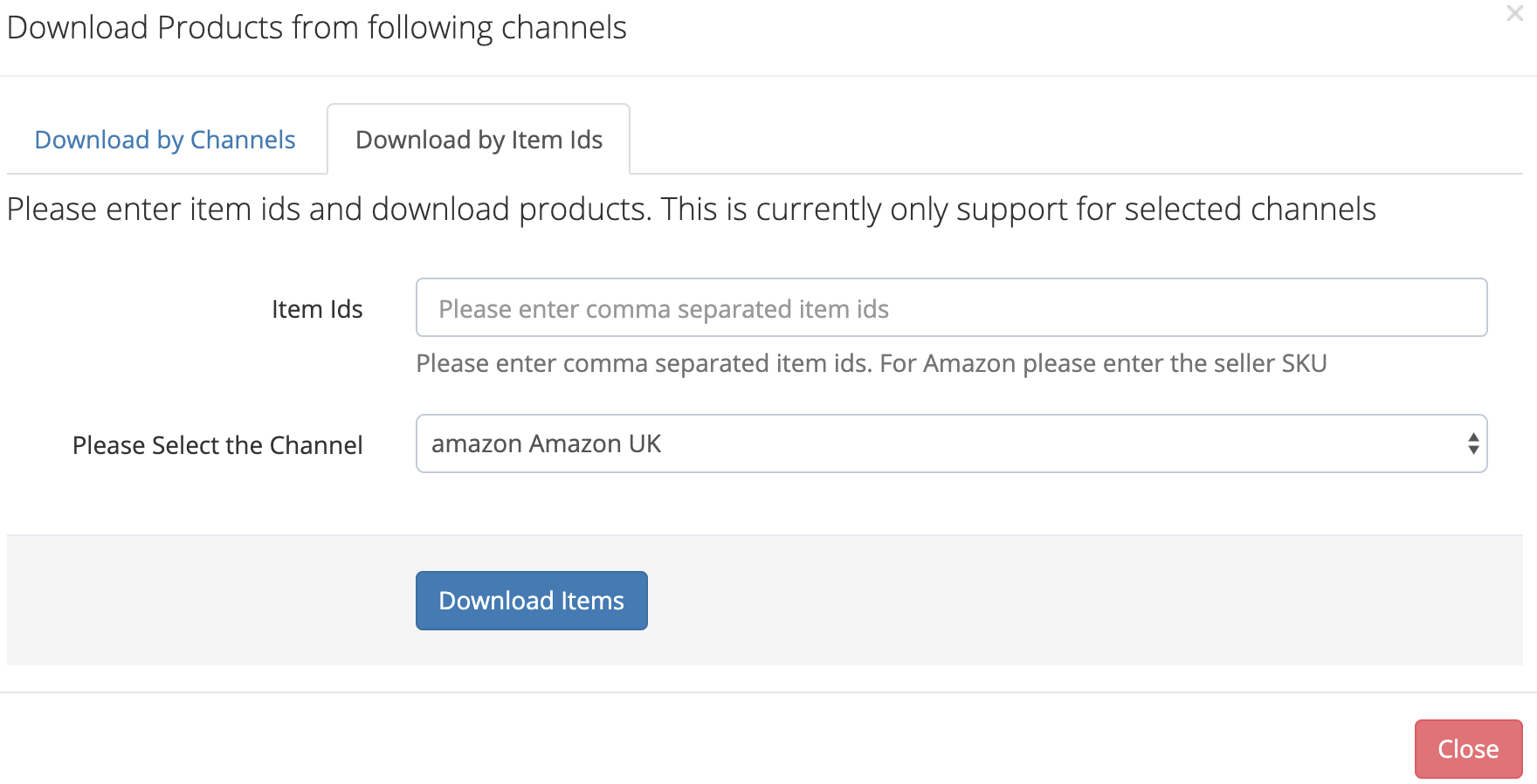 Channel
Download By Listing Id (Item Id) or SKU
Amazon
SKU
eBay
Listing Id
Wish
SKU
OnBuy
SKU
Etsy
Listing Id
Bluepark
Item Id
Shopwired
Listing Id
Magento 1.x
SKU
Shopify
Listing Id
Woocommerce
Listing Id
Reverb
Listing Id
Prestashop
Listing Id
Bigcommerce
Listing Id
ECWID
Listing Id
Opencart
Listing Id
Discogs
Listing Id
Magento2
Listing Id
Walmart
SKU
B&Q

Offer SKU

Please note there are two types of SKUs in B&Q

1) Offer SKU 2) Product SKU

Mirakl

Offer SKU

Please note there are two types of SKUs in Mirakl

1) Offer SKU 2) Product SKU