Selro has the capability to import your eBay Business Policies and use them so you don't have to set your shipping or return policies for every item. You can select eBay business policies in your Selro eBay listing template.

Also, note that Profiles are account specific and each instance of eBay will be required to have it's own profiles. It's important to note that if you are using policies, you must submit all 3 policies when listings items. It is not possible to only use just 1 or 2 policies and then submit the rest of the data manually.
You must activate business policy in your eBay account before creating policies.
Once you are opted in and for subsequent logins, click on My eBay, Account and then Business Policies in the left-hand "My Account" window. This brings you to the section where you'll be able to create one or many policies in each area (shipping, payment and/or returns).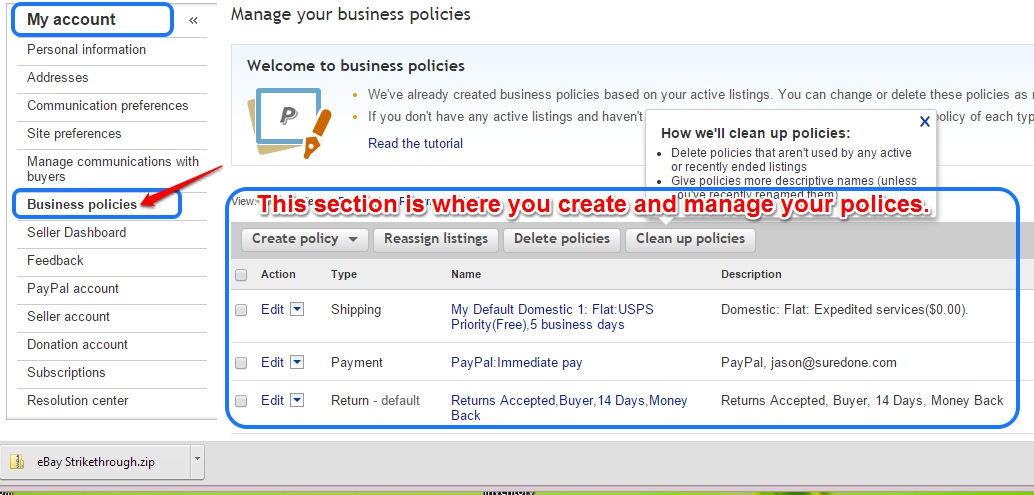 To create a policy and to give you an example, click on Create Policy as shown below.
You will then click on the policy you wish to create. In this example, you will click on Shipping. Keep in mind that you may create one or many policies. You will determine how many by your business needs. Here is an example creation of a Shipping Policy.


Note: that the Policy name and the settings you build here is what Selro will import for your use within the system. It's a great idea to make the Policy name describe your shipping details (example: Default Shipping, General Merchandise Shipping, Fine China Shipping, etc), so that you may recognize the shipping attributes later in Selro when choosing it.