To integrate your marketplace please follow the steps outlined below.
Please select your username in the top right-hand corner-> connections-> available channels will appear under the 'marketplaces' tab and 'ecommerce stores'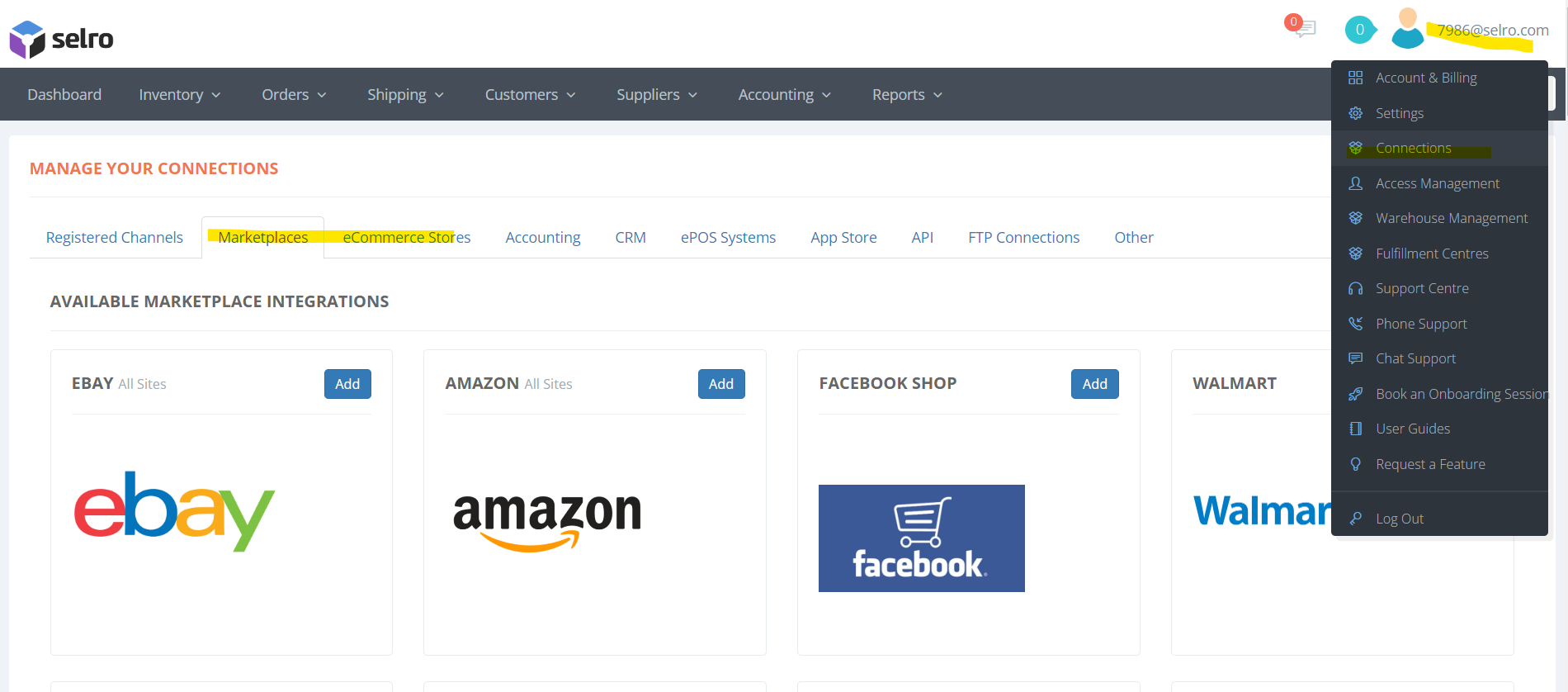 During your trial period, you can integrate with up to 20 different channels.
Once you have subscribed you will be able to integrate with unlimited channels.
You can integrate multiple accounts per marketplace, for example, you can have multiple eBay/ Amazon stores integrated in your Selro account.
When integrating your channels please note whichever marketplace you integrate first will be considered that 'master' for product details.
For example, if you have an Amazon UK account and an Amazon DE account, if you want your product details to be shown in English you will need to download your Amazon UK channel first.
This also applies to stock levels, if your products have the same SKU number the stock count from the first marketplace integrated will be used once you enable stock synchronisation.
If you leave the 'download catalogue' check box enabled any new items added to your channel directly will automatically import into Selro within 24-48 hours.
The following channels are currently available for integration with Selro:
If you would like to request a new marketplace be added, please log into your Selro account, select your username in the top right hand corner and select 'feature request' from here you can submit an integration request directly with the development team.
eBay (all marketplaces)
Amazon (all marketplaces)
Facebook
Walmart
Cdiscount
Priceminister
Bonanza
Etsy
Fruugo
Storenvy
OpenSky
Not on the high street
Wowcher
Reverb
Discogs
Sears
OnBuy
Abebooks
Conforama
Cdon
Wish
FNAC
Rakuten
Kaufland
Trademe
BestBuy
Shopify
Woocommerce
Magento2
BigCommerce
Prestashop
Volusion
EKM
Bluepark
XCart
Visualsoft
Opencart
3Dcart
Shopwired