The Import One-Stop Shop (IOSS) is the electronic portal businesses can use from 1 July 2021 to comply with their VAT e-commerce obligations on distance sales of imported goods.
According to the VAT rules applicable up until 1 July 2021, no import VAT has to be paid for commercial goods of a value up to EUR 22.
The new VAT e-commerce rules will abolish this provision as of 1 July 2021. Thus, from 1 July 2021, all commercial goods imported into the EU from a third country or third territory will be subject to VAT irrespective of their value.
If you are creating shipping labels from Selro, please configure your IOSS registration number under :
Select your username in the top right-hand corner-> settings -> custom Setting . IOSS number will be sent to the carrier when creating labels.
You have different IOSS registration number for each sales channels (e.g eBay), you can enter that number against the each channel. For EU orders from that channel will use the IOSS number when generating carrier shipping labels.
Please refer to the below link for more details on how to register IOSS
https://ec.europa.eu/taxation_customs/business/vat/ioss_en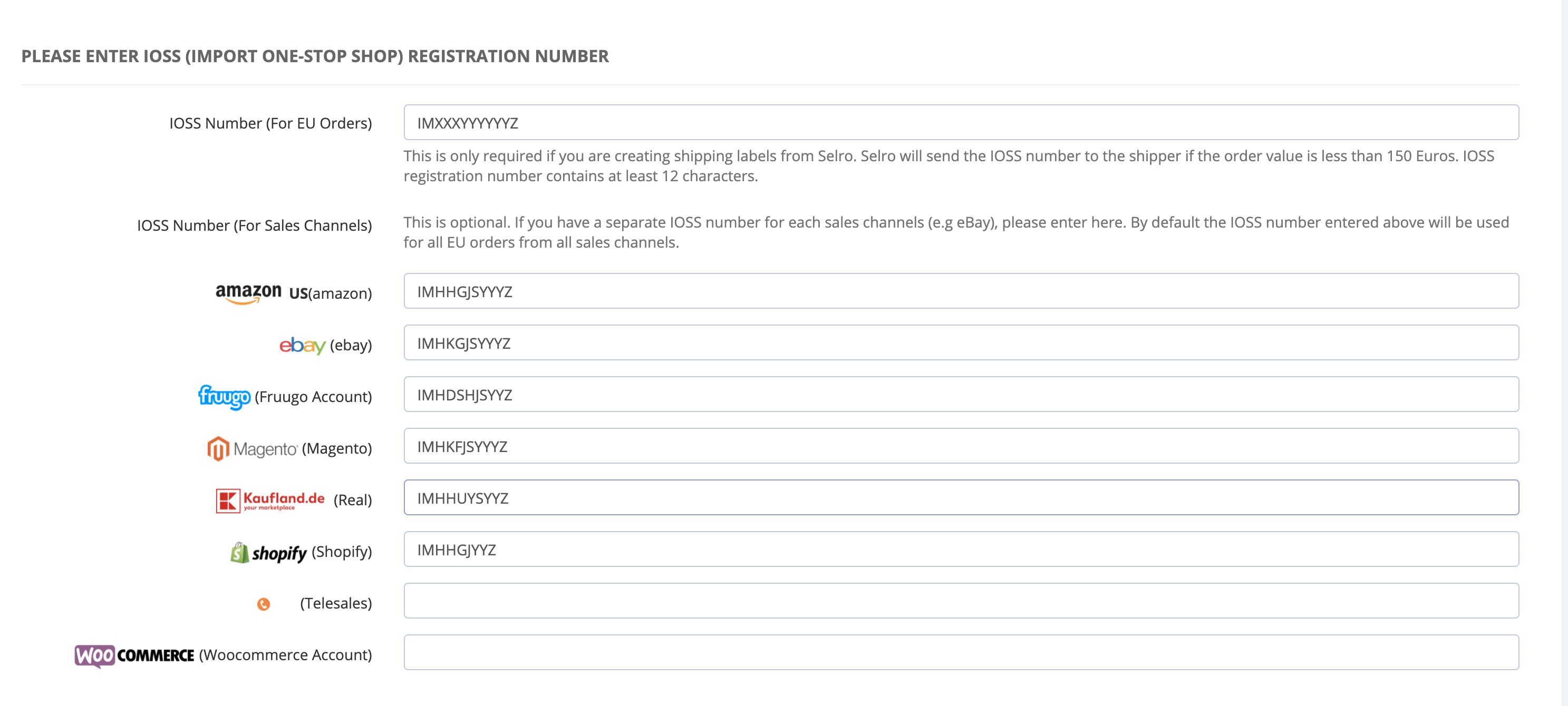 Below are the region storefront(s) IOSS numbers for Amazon
| | |
| --- | --- |
| Amazon Site | IOSS |
| Amazon.co.uk | IM4420001201 |
| Amazon.de | IM4420001201 |
| Amazon.es | IM4420001201 |
| Amazon.fr | IM4420001201 |
| Amazon.it | IM4420001201 |
| Amazon.nl | IM4420001201 |
| Amazon.pl | IM4420001201 |
| Amazon.se | IM4420001201 |
| Amazon.com | IM4420001234 |
| Amazon.ca | IM4420001223 |
| Amazon.co.jp | IM4420001008 |
eBay
For eBay , Selro uses the IOSS number returned within the Order when creating shipping labels for EU orders.